New menu items "La France Burger" and "La France Shake" will go on sale on November 1!
The "La France Burger" using La France produced in Yamagata Prefecture has elegant and smooth texture.
Enjoy the refreshing flavor of the 100% beef patty combined with sweetness of La France and the milky flavor of cream cheese.
The "La France Shake" is a luxurious blend of our popular vanilla shake and pureed fruit pulp. Enjoy a shake that blends the elegant sweetness of La France with the rich deliciousness of vanilla cream.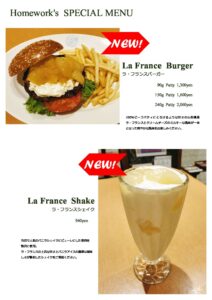 【販売期間】11月1日―12月末シーズナル(R3冬)